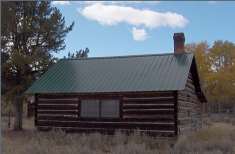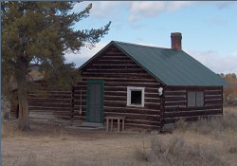 Three* rustic cabins are available for rent. They are located on a working cattle ranch that borders the Beaverhead-Deerlodge National Forest in southwestern Montana.


Hiking:
The cabin location has easy access to National Forest service roads that lead to many trailheads which go to secluded mountain lakes and also the Continental Divide Trail.


Hunting:
The location of the cabins has good access to hunting sites for elk, deer, and moose on public and private land. (Permission must be obtained when hunting on private property).


XC Skiing:
In winter, the cabins have XC ski access for a secluded getaway with nearby national forest roads and trails. This will be back country skiing with no groomed trails and very likely no other skiers.

While these cabins are ideally located and offer a unique experience, they are not for everyone. The cabins are more similar to Forest Service cabins, rather than vacation rental cabins. The only modern convenience they have available is cell phone service**. They have no electricity, no indoor running water, no indoor plumbing , no hot tub, and no TV. They also have no noise, no congestion, and no traffic. Heat is provided by a wood stove and a propane stove is provided for cooking. The 'neighbors' may include moose, deer, elk, bears, coyotes, and wolves.

If you are interested in renting these cabins, please visit the other links above for more information.


*The two smaller cabins are under renovation at this time.
**Service not available for all cell phones. Works for Verizon.